Test Products
Sterner Automation test products include a broad range of offerings for the electronics and automotive industry. They range from manual testing stations to inline fully automated testing solutions. Our advanced engineering knowledge allows us to work in high technology areas such as RF, in-circuit PCB, functional PCB and LED measurement.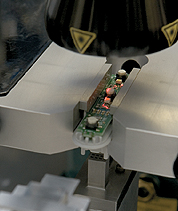 Communication and Calibration
Sterner Automation calibration and communication products allow machine builders to circumvent the most difficult operation for automotive machine builders, communicating to the vehicle ECU. Sterner Automation's interface equipment provides a standard communication device that can be tested in-house and updated remotely while lowering engineering costs by centralizing the programming task.